Contributor Guides
Any images that you submit to the marketplace must meet our basic technical standards regarding image resolution and image quality. These are industry standards, created to make sure images can be purchased for as many different uses as possible and to reassure clients that they can use images they select in the way they want to.
Model and Property releases - all you'll need to know
What are Model Releases
A model release is a legal document signed by the person(s) appearing in your image. If your image features a person (including you) or people, then you will need to get them (or yourself) to sign a model release as this will ensure you and us have the rights to use the image commercially.
When a Model Release is required
Model Releases are not only required for professional models.
All images featuring a person or persons. Each person should sign a model release. One release per person.
If YOU the photographer are featured in the image you must sign a model release.
Any person under the age of 18 years old appearing in an image, must have a model release signed by their parent or legal guardian.
Model Releases - Required information
Printed name of the person featured in the image
The signature of the person featured in the image (or parent or guardian signature for those under 18)
Date of Birth of person featured in the image
Gender of the person featured in the image
Address and contact information of person featured in the image
Photographer's printed name and signature
Date the image was shot
Date the release was signed
Country and State of Shoot
Shoot description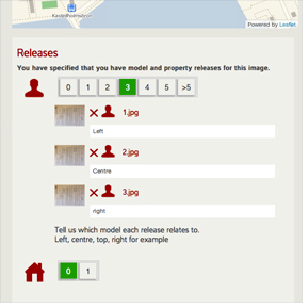 We prefer a photo of the model attached to each release, especialy when there is more than one model in an image - but if you cannot do this, then you can add notes to each release when you upload them through your profile page, as shown here - a simple, left, center, right for 3 person image, would usually be enough to tell us which person each release relates to.
What are Property Releases
A property release is a legal document signed by the owner of a building or private property appearing in your image. By signing the property release, the owner of the property is giving you and as your representative us, permission to use the image commercially.
When a Property Release is required
Images featuring private homes and buildings
Images featuring places where businesses are conducted
Images featuring commercial venues
Images featuring personal property such asa works of art and objects that have been designed and made by a person - so those images of designer furniture, we will not offer for sale without a release.
Animals - Images featuring professional animals including: show dogs, zoo animals and racehorses as well as other animals that are used in a professional or commercial capacity - but mostly animals in public places do not require releases.
Model Release Apps
If you don't want to use paper releases, there are various online options available, the most popular of which is Easy Release:

iPhone
Android
Currently we are unable to accepted model and property releases generated via any app in China. However, we may be able to accept a Chinese language model or property release generated via an approved app and signed outside of China. Images associated with this release may still be licensed in China.